---
Say goodbye to uncomfortable carry and risky drops this summer with the Pancake Holster. Safe and snug for hard-working folks, everyday carriers, outdoor enthusiasts, and comfort-seeking individuals.
Sweat-proof, friction-proof & comfortable

Eliminate pressure points

Relieve back pain

Prevent skin shear injuries

Easy to use

Quick-draw and easy to conceal
Fits most full size, compact and sub compact.
Glock 19 23 32 26 27 33 30

M&P Shield, XDs,

Taurus PT111, Slim 709,

Beretta Nano,

SCCY SKY 9mm,

Ruger SR9,

S&W M&P 9 Compact,

Sig P320, Sig P250, Sig 224, Sub Compact,

Beretta Px4 Sub Compact,

Sprinfield XD9 Sub Compact,

FNS 9mm Compact FNS 9C,

XDM with 2-3" Barrel, H&K P2000 SK Sub Compact,

H&K USP C-40, P30, Hi-Point Sub Compact.
Features:
🌟 Unparalleled Comfort: Our holster is designed with your comfort in mind. The ergonomic design and padding eliminate pressure points, ensuring you can wear it all day without discomfort.
🌬️ Breathable & Sweat-Proof: No more worrying about sweat buildup or unpleasant odors. Our moisture-wicking materials keep you dry and fresh even in the hottest weather.
🛡️ Secure & Quick Draw: Feel confident with our secure retention mechanism that holds your firearm in place while allowing for a quick and smooth draw when you need it most.
🌐 Universal Compatibility: Designed to fit most pistol models, our holster provides a snug fit for your firearm, keeping it secure and ready for action.
👔 Effortless Concealment: Slim profile and adjustable cant angles ensure effective concealment under your clothing, allowing you to carry discreetly without compromising comfort.
.

🚶 Back Pain Relief: Experience a new level of comfort with weight distribution that minimizes strain on your back, making daily tasks and long periods of wear much more manageable.
🔒 Quality Craftsmanship: Our holster is crafted from high-quality materials for durability, ensuring it holds up to daily use and remains a reliable companion.
🔧 Personalized Fit: The adjustable design lets you customize the holster's position to suit your preferences, making it perfect for your unique carrying needs.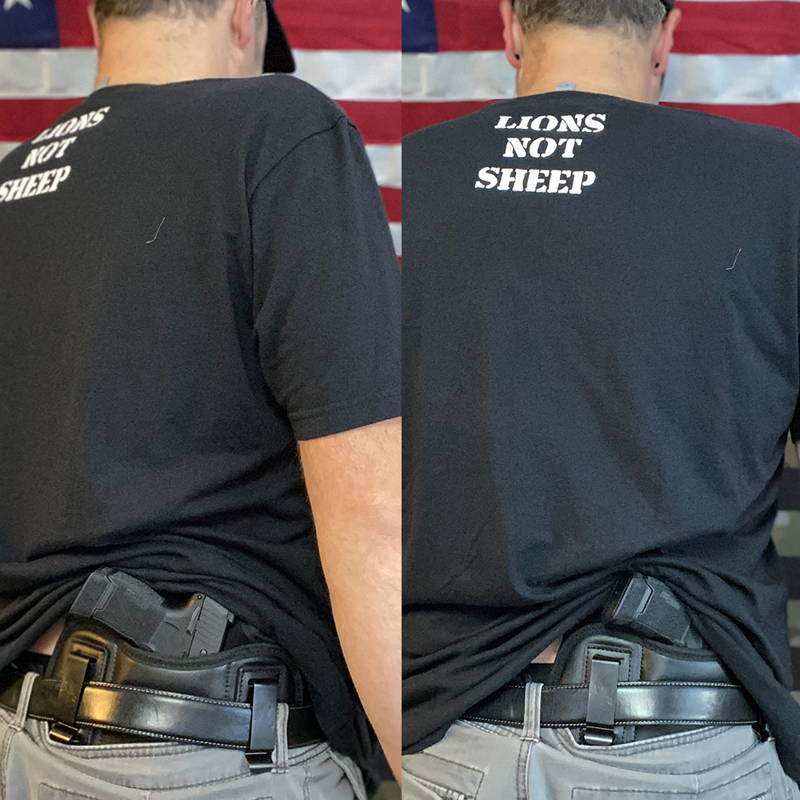 Whether you're a busy professional, an active individual, or someone who values comfort and style, the Ultimate Comfort Concealed Carry Holster is your must-have accessory. Elevate your carrying experience, eliminate discomfort, and regain the confidence to move freely without sacrificing safety.
Specification
Material: Leather

Color: Black

Size:  1 Size Fit All
Packing included
FREQUENTLY ASK QUESTION
Q:  Will The Pancake Holster fit my gun?
A:  the pancake holster can fit any. It is designed to fit a wide range of pistol sizes, including Full Size, Compact, Sub-compact, and Pocket pistols.
Q:  Can the Pancake Holster be used by left-handed?
A:  The pancake holster is designed for both right-handed and left-handed individuals. It can be used comfortably by anyone.
Q:  Is the holster only for men?
A: Not at all! The pancake holster is suitable for everyone, regardless of gender. It is a unisex holster that can be comfortably used by anyone.
Q: Wash?
A: You can hand wash your holster in warm soapy water by soaking it and working it with your hands. Then thoroughly rinse under cold water and hang to dry. Do not machine wash or dry. Remember: Do not machine wash or dry.